Background – Chlorine Dioxide Disinfection
Dioxide Pacific recently provided an Electricide CDE-25 (472 g/hr – 25 pounds per day) electrochemical chlorine dioxide generator and dosing system to replace a traditional 2-chemical generator utilising 33% HCL and 25% sodium chlorite. This Australian dairy processor treats four water streams from the one generator including mains water and condensate.
Why Change?
The 2-chemical generator had ongoing reliability issues, plant room corrosion from HCL fumes and reduction in water alkalinity (pH). After an extensive evaluation process by an external consultant, the Dioxide Pacific Electricide electrochemical generator was chosen as the preferred replacement.
Advantages
The pertintent advantages of the Electricide generator are:
Use of only one precursor chemical
No acid – existing acid storage can be removed
Lower reduction in alkalinity (reduction in caustic use for pH correction)
Higher purity chlorine dioxide – no sodium, chlorite, chloride, chlorate added from the generator
Production of consistent 2,000 ppm ClO2 solution for dosing
Remote access via web server
System Description
In this system, chlorine dioxide solution at 2,000 ppm is produced in the generator solution tank and transferred via level control to a 1,500L FRP external storage tank. Four metering pumps dose from the outlet of this external tank to the four dosing points. Dosing is controlled from the generator HMI/PLC using different modes. There are three water storage tanks which are circulated. Each of the three tanks is controlled to a set ClO2 residual using PID control. One tank (mains water) also has flow paced dosing. Water entering the tank is dosed via flow pacing and the mains water in the tank is dosed to a PID setpoint. The combination of flow paced and PID provides accurate residual control.
Dioxide Pacific provided the complete system including generator, metering pumps, residual analyzers, chemical transfer system and storage tanks. Metering pumps with isolation valves, load valves, pressure relief valves and gauges were assembled on a skid. Analyzers and probe holders were mounted on a backboard. Electricide-P1 chemical is provided by Dioxide Pacific in IBC's (totes). This chemical is formulated to provide chlorine dioxide conversion and long life for the electrolytic cell. The system was installed inside a purpose built shed by the customer.
Does this sound like something you could use?
Chlorine dioxide is ideal for disinfection of water used in food & beverage processing. You may be using chlorine or a 2-chemical chlorine dioxide generator for your water disinfection. If this information has piqued your interest, contact us for more information or a quotation.
Electricide chlorine dioxide generator, dosing system and residual analyzers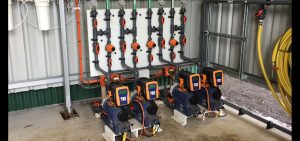 Chlorine dioxide solution dosing skid