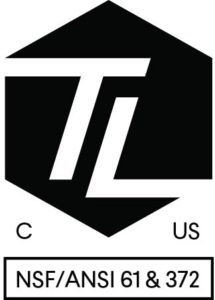 Who certified the generators?
Truesdail Laboratories Inc. (now part of ALS Global) has certified the generators.
View our certification here.
Which models are certified?
The following Electricide® electrochemical chlorine generators models to NSF/ANSI/CAN 61 & 372:
HGB-2.5  Capacity: 47 g/hr = 2.5 lb/day
HG-10  Capacity: 189 g/hr = 10 lb/day
HG-25  Capacity: 472 g/hr = 25 lb/day
HG-50  Capacity: 945 g/hr = 50 lb/day
HG-100  Capacity: 1,890 g/hr = 100 lb/day
HG-200  Capacity: 3,780 g/hr = 200 lb/day
HG-300  Capacity: 5,670 g/hr = 300 lb/day
HG-400  Capacity: 7,560 g/hr = 400 lb/day
HG-500  Capacity: 9,450 g/hr = 500 lb/day
HG-600  Capacity: 11,340 g/hr = 600 lb/day
HG-700  Capacity: 13,230 g/hr = 700 lb/day
HG-800  Capacity: 15,120 g/hr = 800 lb/day
HG-900  Capacity: 17,010 g/hr = 900 lb/day
HG-1000  Capacity: 18,900 g/hr = 1,000 lb/day
Which applications require certification?
Applications related to municipal potable water and health care water treatment (hot and cold water systems in hospitals and aged care facilities) require NSF/ANSI/CAN 61 & 372 certification for chemical generators. Dioxide Pacific has obtained this certification to ensure the above-mentioned generators can be installed and operated in these applications.
What is NSF/ANSI/CAN 61 & 372?
The aim of NSF/ANSI/CAN 61 is to ensure that the generator does not add any undesired health related compounds to the water via the chemical it generates. NSF/ANSI/CAN 372 ensures that no lead is added to the generated hypochlorite solution.
Note: NSF/ANSI/CAN 61 addresses health effects only and does not address the disinfection efficacy of the product
Why is it important?
Many States in the US require NSF/ANSI/CAN 61 & 372 certification for chlorine generators. Even if it is not peremptory, this certification is reciprocal in other countries as recognition of high chemical generation purity and therefore lowest risk for potable water and water for use as an ingredient in food products or for washing.
How do the generators work?
The Electricide® electrochemical chlorine generators produce either chlorine gas or 2-30 g/L sodium hypochlorite solution which can be dosed and controlled to 3 dosing points. The generator PLC/HMI  automatically measures chlorine residual and controls dosing of chlorine gas or sodium hypochlorite solution to ensure accurate disinfection. Generators are equipped with secure remote access capability to view, operate and receive email alarm notification.
Contact us for further information and pricing.